News & Views
Wednesday 4th January 2017
Interview with Namibia Tourism Board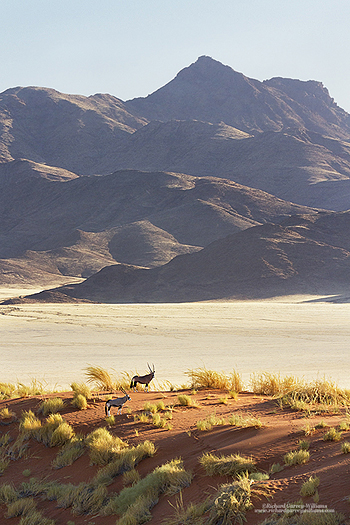 1. Tell us about your most unforgettable moment while shooting in Namibia.
That's difficult – there were so many! Namibia gave me a parting gift that has certainly lived with me. On my last evening, which was spent in the Namib-Rand Reserve, I finally allowed myself to relax after dinner, not needing to rush off to finish downloading images and get to bed ready for another early rise. I leant back in my chair and really took in the night sky for the first time. I've seen night skies in a number of countries but this was special – really special. I resolved to make some time for some night photography too on my next visit, or at least time to lie on my back and fully appreciate this spectacle.
2. Every destination has its challenges and rewards; how does
Namibia compare to other places you've photographed?
Namibia is unique – its vast, relatively unpopulated spaces and arid landscapes particularly strike those of us from more temperate climes. The rugged mountains and towering sand dunes provide some wonderful back-drops for wildlife photography. The colour palette is also dramatically different being dominated by yellows, oranges and blues. There's certainly variety too with the coastal regions, Fish River Canyon and the Waterberg Plateau as just a few examples of locations offering different photographic opportunities. Etosha National Park is also great for photographers, particularly through the dry season when you are able to witness the whole cast of its dramatic wildlife taking turns to visit the many waterholes. It's fascinating to watch them nervously approach to take their turn drinking and to see which species are happy in one another's company and which not.
Wildebeest seeking refuge during the course of the day on the Etosha Pan.
In terms of challenges, one of the obvious ones we photographers have to face is that of heat haze. Obviously photographing at the ends of the day when the air is cooler helps, and it's also important to get nearer to your subject if there is a risk of haze. However, when using very long lenses, there are bound to be a few images blurred by its influence and you may not be aware of this until you blow them up on the computer screen at a later date. The other elements that we need to respect in these sorts of environment are the dust and sand. These do not mix well with the mechanics of some of our equipment. Extra precautions are certainly recommended. Also, with regard to planning itineraries, the major challenge is the travel between locations – distances are vast and many of the roads are dirt roads. I actually quite enjoyed many of these drives and did most of my 'moving-on' during the middle of the day to avoid eating into the precious morning and evening photography sessions.
3. Which 3 photos shot in Namibia are you most proud of and why?
One of my favourites is the one of the Black-faced Impala drinking. This was taken early on during my tour at one of the waterholes towards the Eastern Gate of Etosha. I watched through the viewfinder mesmerized as the impala came in one at a time to drink, eventually lining themselves up to form a wonderful composition. The late-arrival, nervously looking around before lowering its head really makes the photograph, however, as it nicely breaks the pattern.
Another is the silhouetted elephant drinking. This was taken at the waterhole at Halali camp. I was half-way into my time in Etosha and had yet to see an elephant, which is unusual. At sunset, I hurried on foot to the waterhole and was over-joyed to find a whole herd of elephants drinking there. I set to trying to capture some interesting shapes and outlines by silhouetting them against the glowing water beyond. I fired off a sequence as this one raised its head and the alignment of its head with the gap between the trunk and reflection on the left made this one a particularly balanced and appealing composition.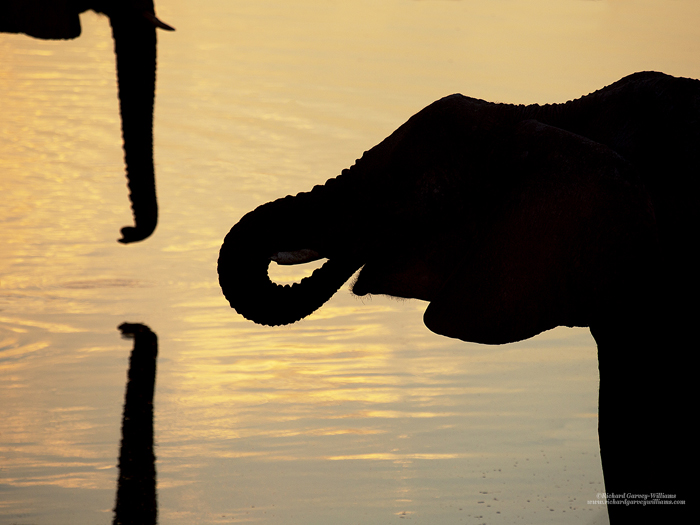 As my third I'll go for the one I call Elephant Communion – I approached this waterhole to find these two bull elephants standing there coated with drying white mud. They looked as if they had been sculpted out of marble. I spent a good hour watching them as they gently swayed from side to side, occasionally turning to each other and gently resting their heads together. Apparently, they had arrived together and I saw them leave together – clearly a close bond between them.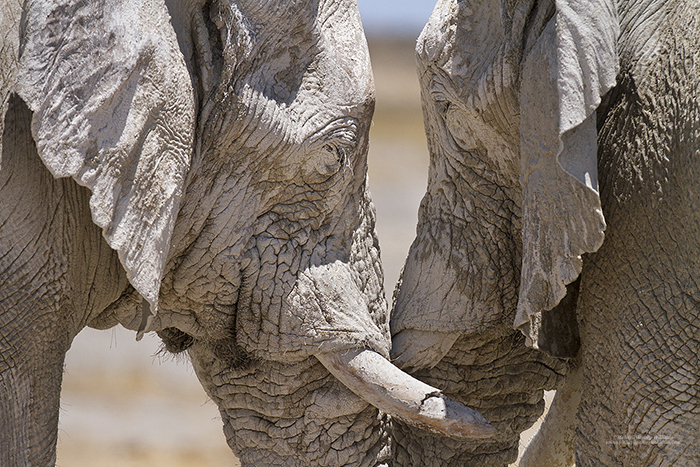 4. When going on a Namibian photographic expedition, what is your
equipment of choice? And what do you never leave home without?
There are opportunities to use the full spectrum of focal lengths with long telephotos being useful for many wildlife encounters and in particular the bird life. Wide angle lenses by contrast will also enable you to include foreground details in some of your landscape shots and to get 'creative' with rock formations, quiver trees and sand dunes. I'd also strongly recommend a polarizing filter. These will often work wonders in this context by lifting and emphasizing the wonderful colours in the scenery. This 'lift' will enable you to continue shooting more towards the middle of the day too, with the enhanced colour spectrum preventing the images becoming too bland. A polarizer will also often help any clouds present to stand out in the blue skies, enabling them to contribute more actively to your compositions.
Sculpted sand-dunes in the Namib-Naukluft National Park: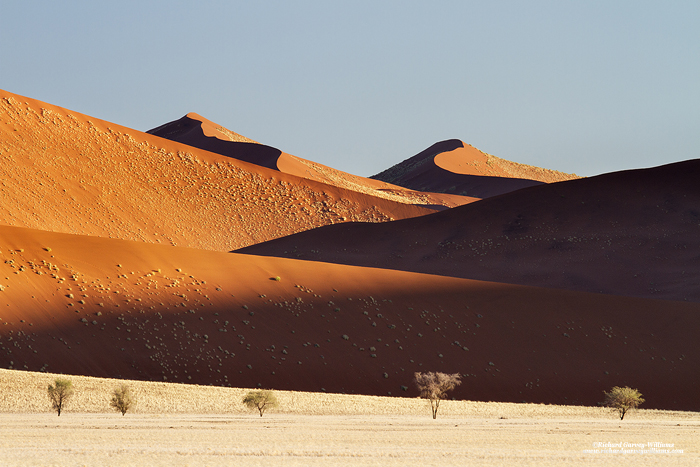 Another essential item is a beanbag. Much of your photographing will be done from a vehicle so a beanbag to rest your camera and long lens on will make life a lot easier. It will also give you the stability you need to use slower shutter speeds when the light levels are low early in the morning or when you need a small aperture for a greater depth of field.
5. A photographer friend is desperate to capture the best of
Namibia. What top three tips would you give them?
Firstly, as with any destination, it's important to do your research and plan your itinerary with your photographic ambitions in mind. As mentioned distances between locations and travel times need to be taken into account, so that you can maximise your time in the prime sites. Make good use of an operator or contact with local knowledge. Factor in a little extra time as road conditions can be a little variable.
Deadvlei in the Namib-Naukluft National Park: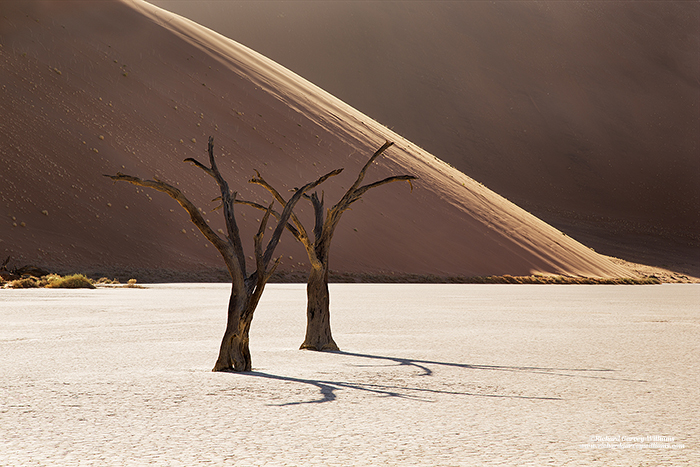 Secondly, take all the necessary accessories to protect your equipment from dust and sand. Dust covers or simple plastic bags fixed over your camera and lens with rubber bands or tape are a good idea. Obviously a blower brush to keep the optics clean and cloths and cleaning fluid are also essential. A regular soft-fibred paint brush can also be useful for dusting off your equipment and bags at regular intervals. Remember to put your cameras and lenses away in your camera bag and to zip it up when moving on as dust from passing vehicles ends up coating everything.
Finally, when lining up each shot, make a point of asking yourself about the fundamentals of lighting and composition. The aridity of the surroundings provides for some lovely uncluttered scenes, enabling you to simplify your compositions and to experiment with some precise placement of the elements contributing to the photograph. It's not surprising that many of my images from Namibia were used as examples illustrating various points in my book, Mastering Composition – the definitive guide for photographers.