Prints
All images on this site are available for purchase as prints. Typical prices are £60 for 40cm longest side, £100 for 60cm and £180 for 90cm. Many are also available up to 150cm in length. They have an additional narrow white border to facilitate mounting. Please note the title of the image you are interested in and its reference number and contact Richard to enquire about costs. Many are available either in black and white or colour. So if you are interested in a variation or a print at a different size, again note its title and reference number and contact Richard explaining your requirements.
Prices include appropriate packaging (usually loosely rolled and wrapped in acid-free paper to fit in a strong tube but larger sizes may be shipped flat) and postage to Europe. For other destinations, please contact us first to confirm the postage price.
If you would like your print mounted and framed, this can also be arranged. Alternatively, they can be mounted or printed directly onto aluminium dibond with a protective lamination and wall-mounting bar. For a quotation for these options please contact us.
Limited edition prints
These are the ones with (Lim Ed) noted after their titles. They are limited to 75 prints and these may be divided between 2 or 3 size options. For example, 50 prints at 60x40cm and 25 prints at 90x60cm. Typical prices are £160 for 40cm longest side, £220 for 60cm and £280 for 90cm.
Top Quality
Richard is proud of his images and always wants them to be reproduced in the best possible way. Therefore, prints are made using long-lasting "archival" pigments and they are printed onto heavyweight Hahnemühle pearl Giclee paper using the latest digital technology.
If for any reason you are not happy with the quality of your print, Richard will offer you a full refund. Simply notify him and return the print in its original packaging within seven days of receiving it. If it is a Limited Edition print, its certificate of authenticity must also be included. Kindly ensure that the print is returned in perfect condition (i.e. with no fold lines, fingerprints, scratches etc.) for him to be able to make any refund.
In the rare event of prints becoming damaged or lost during shipment due to courier's responsibility or improper packaging, the print will be replaced at no extra cost. Should it be a Limited Edition print and the edition sold out, a full refund will be made. Again, the damaged print (and certificate of authenticity) must be returned.
Budget Prints
For those not requiring absolute print and paper quality, we can also offer the images printed on either A4 or A3 Fuji DP II Professional Paper with a lustre finish at £22 and £30 respectively which includes delivery in the UK by Royal Mail First Class. For an additional £6 delivery to EU countries can be arranged. Note that the images are sized to fit these sizes of paper without any cropping and allowing for at least a 5mm white border. This offer does not apply to those noted as Limited Edition prints.
Commercial Image Licensing
The copyright of all images remains with the photographer. For commercial image licensing, please contact Richard to discuss your requirements.
Photographic print products available on-line
A selection of further images are available to purchase as prints (mounted and framed or on aluminium to your choice), as greetings cards or various other products. To view these go to Redbubble (select an image and scroll down, and click on 'Available Products' to view the selection of products bearing that image) or to Fine Art England.
In addition to these, a range of Richard's photographs are available as fabric wall hangings from Wallstars – this is a translated page so go to the Photographers tab and select Richard Garvey-Williams to see those available.
Safaris
Photographic Safaris in Africa for 2019
Due to other commitments, I am not lining up any further safaris for 2019. However, please do contact me to register any interest for 2020.
Kenya - the prime reserves of Amboseli and the Maasai Mara - February 2020.
Dates – Saturday 8th to Saturday 15th February, 2020.
On this 8-day photography safari we visit two of Africa's most famous reserves, which provide unrivalled opportunities to photograph the continent's most iconic wildlife in wonderful and dramatic settings.
Group size – 5 participants
Namibia's Etosha National Park and Namib Rand Reserve - November 2020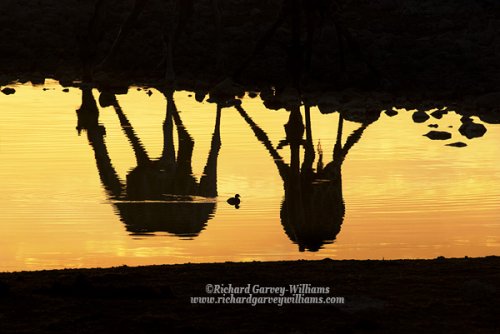 Dates: Sunday 15th November to 24th November 2020
Namibia offers unique opportunities for both wildlife and landscape photography. It is a vast country with a population of only 2 million. Large parts are desert with much of the rest being open savannah country dotted by dramatic mountain ranges. Its colour palette of blue skies, orange sand-mountains and yellow grasslands contributes to some unforgetable vistas. Much of its wildlife is uniquely adapted to this arid environment and wonderfully photogenic.
Group size 5 participants