Safaris
Namibia's Etosha National Park and Namib Rand Reserve - November 2020
Overview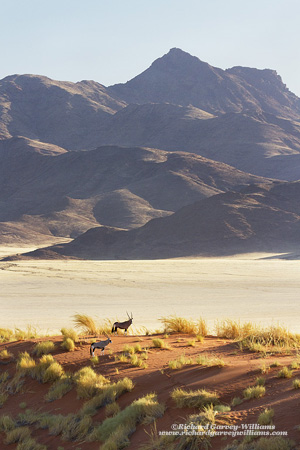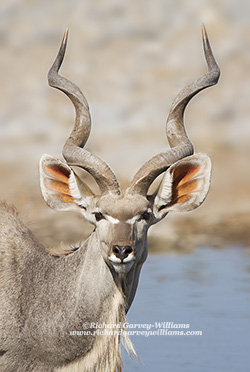 On this 10-day safari holiday we focus on two of Namibia's prime locations for wildlife viewing, each offering fantastic opportunities for photographing a variety of animal life often in the context of their dramatic, scenic surroundings. Experience has taught us that November, being late in the dry season, is a good time of year, with visibility being good and thirst driving an abundance of animals to the waterholes. Daytime temperatures can reach into the 40s in some areas, although it is considerably cooler at night. This does mean that it will appeal more to those of you who enjoy the heat, even though the majority of our outings and photography will be conducted early and late in the day when it's considerably cooler.
As a small group of just 5 participants, we set off in a spacious 10-seater vehicle driven by our local guide and head north to Etosha National Park. Our first four nights are spent at two government-run lodges in different parts of the park each with their own flood-lit waterholes. We will spend a lot of time at these waterholes, witnessing a whole variety of animals coming in to drink. Springbok, impala, kudu, oryx, zebra, jackals, giraffes and elephants are common visitors and there's a very good chance we'll see lions and black rhinos too. There is also an abundance of birdlife around the waterholes. We will also enjoy game drives exploring other waterholes and to view the Etosha Pan, an enormous dry lake bed.
We then indulge ourselves with a little luxury at Ongava Lodge, a small lodge within a private game reserve on the edge of Etosha National Park. Again this area is good for rhino and lion sightings. Game drives here will be in their open-sided vehicles and we will have the opportunity of experiencing a bush walk too with a good chance of perhaps getting pretty close to a white rhinoceros.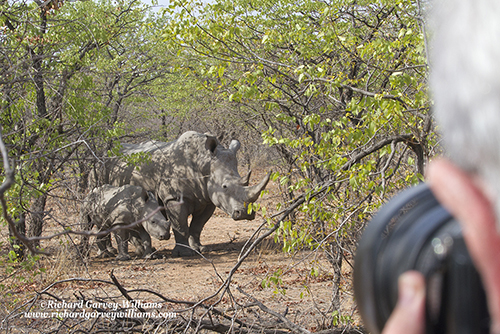 To round the tour off, we fly south to the NamibRand Nature Reserve to photograph the dramatic scenery on the edge of the Namib Desert. Spectacular mountain ranges, rocky outcrops and linear sand-dunes with their surfaces rippled by the wind make for some wonderful photographic images. Our accommodation is at Wolwedans Dunes Camp, which again offers plenty of luxury and some fantastic food. We spend two nights here and will head out morning and evenings in one of the camp's open vehicles to explore these spectacular surroundings. We will have the opportunity of photographing various animals, such as oryx, antelopes, jackals, hyenas and ostriches in the context of this majestic environment and there's a plethora of bird species, reptiles and insects. We should also have the opportunity of some night-time/star-trail photography to capitalize on the cloudless, clear skies.
Throughout this safari workshop Richard will be on hand to offer advice and help you with any challenges you might be facing. He will also offer a number of short tutorials on various aspects of the art of wildlife photography and will also be available to review your images with you.
Itinerary
Sun 15th Nov – arrive at Windhoek airport, where you will be met and transferred to the centrally located Hilton Hotel for a welcome meeting and a good night's rest. Accommodation on a bed and breakfast basis.
Mon 16th – we set off fairly early for a 6-7 hour drive (with breaks) to Etosha National Park where we will check in to our small chalets near the waterhole of Okaukuejo Lodge. The evening will be spent enjoying the spectacle of wildlife visiting the waterhole. Breakfast and dinner are included in the rate and lunches are also available in the restaurant at extra cost. Wifi available at extra charge.
Tues 17th – we explore the area with game drives in our 10-seater vehicle with large side windows and an open roof hatch returning for more photography around the waterhole at sunset and dusk.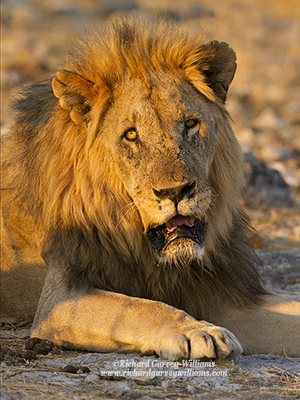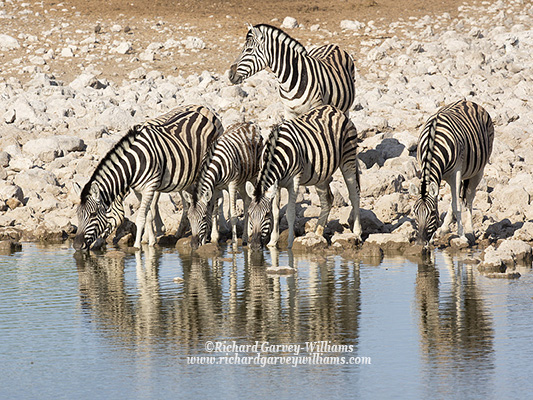 Weds 18th – our morning game drive takes us on to our second lodge, Halali, where we will check in and relax before an afternoon drive, returning to the camp's own waterhole for dusk. Breakfast and dinner are included in the rate and lunches are also available in the restaurant at extra cost.
Thurs 19th – today we spend the morning at the waterhole and head out in the afternoon to further explore the park and to view the Etosha Pan.
Fri 20th – our morning game drive takes us on to Ongava Lodge. Here accommodation is fully inclusive (including drinks except 'premium') and we will head out in their open-sided 4x4 vehicles for our game drives.
Sat 21st – morning and evening game drives and the option to visit a hide over-looking a waterhole nearby in the evening.
Sun 22nd – today we fly south to the Namib Rand Desert Reserve (with a small stop to refuel at Swakopmund – 2 ½ to 3 hrs in all). Accommodation is fully inclusive at the luxury Wolwedans Dunes Camp (including drinks except 'premium'). We will explore this spectacular area with an evening drive in open-sided vehicles.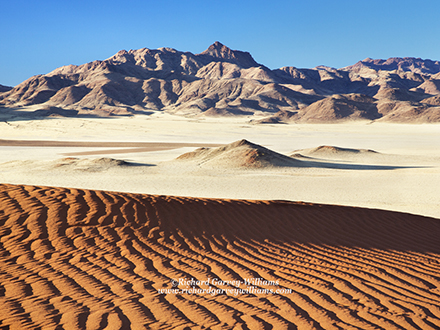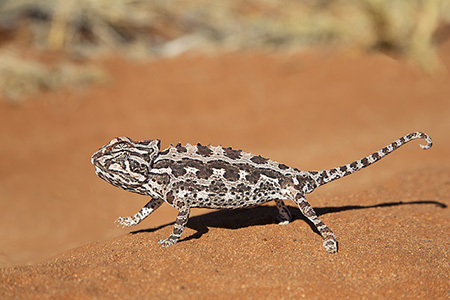 Mon 23rd – a full day further exploring the area with drives and walks, and the opportunity for some astro-photography in the evening.
Tues 24th – an approximately 1 ¼ hr flight back to Windhoek and transfer to the international airport in time for return flights.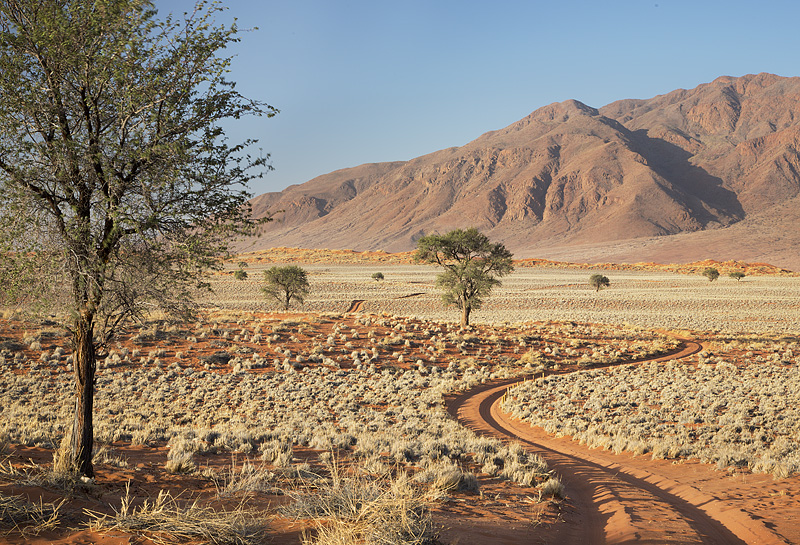 Price

N$103,615 (Namibian Dollars) per person (approx. £5400 at time of posting) payable to the tour operator we use in Namibia, based on twin share rooms (single room supplement is N$13,500 (approx. £700)). There is an additional £400 payable directly to Richard to cover his tuition fee and additional travel expenses.
Please note that this price is an estimate as some of the lodges will not be publishing their rates for 2020 until early in that year. So, it is quite possible that there will be a slight rise in the price. These prices are also dependent upon there being 5 guests. No bookings have currently been made and these will be subject to availability, so please register your interest as early as possible by contacting us. When we have the required number, a booking form is issued to you and accommodation availability is checked. A deposit of 20% is then required and payment of the balance is due typically 8 weeks prior to the safari.
Not included
Your international flights to reach Windhoek.
Visas, if required. Personal travel insurance.
If you arrive on a different flight to the other participants, there may be a surcharge to cover your transfer from the airport to the Hilton Hotel.
Additional meals/snacks not included in the rate as detailed in the itinerary above. Also drinks, including bottled water.
Items of a personal nature – laundry, curios etc.
Tips and gratuities.